---
I've lived in Houston my whole life. Growing up, my grandmother taught me that anything you stand for, you fight for.
That's why I'm speaking out for $15 and a union.
I'm a skycap for a United Airlines' contractor at George Bush Intercontinental Airport. Most travelers have no idea they only pay us $2.13 an hour because we're considered tipped workers, but we don't make much in tips. There are more than 500 United flights out of this airport every single day. We are the faces of the airport and we make it run. We help United make billions, but they are paying us below minimum wage.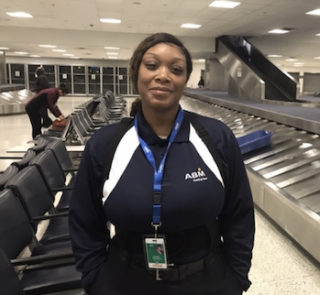 There's no way you can make it on $2.13 an hour and minimal tips as a single mother. Not in Houston. Not anywhere.

I'm the first woman on the skycap team. Being a skycap is hard work. We are constantly moving and lifting bags that can weigh 80 pounds. The best part is helping people out. Elderly people, moms with little kids, international travelers who don't speak English—I enjoy helping them with their bags and showing them where to go. They depend on us. What the airlines need to understand is we have a family at home that's depending on us too.

I'm a single mother of three. About two months ago, I almost got evicted because I couldn't make the rent. This month, I can't pay my light bill yet because I had to pay rent first. I pray I can stretch it after I pay the most important bills first.

You have to have money to live. If I was paid a fair wage, it would totally change my life.

I would love to work for the actual airline to get the pay, benefits, healthcare, 401k—and a union. Since we are contracted out, we work hard for United, but we don't get any of those benefits. We even have to pay $25 dollars a week to park. We bring in so much money for the airlines and then they are taking money out of our check just to work for them.

This isn't just about me. It's about all of us—young and old, of all races and religions. There are others that have been here 30 years who still make $2.13 with minimal tips, and they have nothing to retire on.

I'm trying to set it up for the next generation that's coming up after me. We need healthcare. We need retirement. We need a fair wage.
We protested at the airport until the Mayor signed a policy to raise our wages, but the airlines haven't kept their promise. There have been protests all over the country and United's contracted workers won higher wages. Why are we still stuck at $2.13?

Something needs to be done—like right now.
My Grandma was strong willed and determined. She taught me that if someone is doing you wrong you need to stand up, not just for yourself, but for others. I'm going to keep standing strong with airport workers from all different backgrounds until we win Unions for All. Together we can make sure United and the other major airlines pay us a wage we can live on and give us the benefits we deserve.